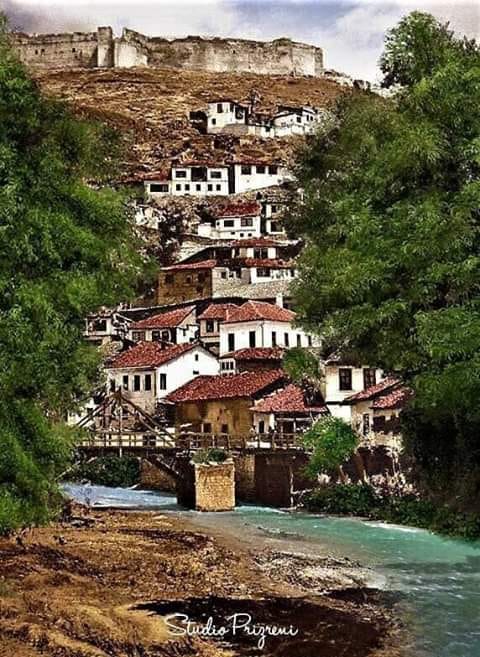 How to make the most out of your day in Kosovo's capital of culture
I arrived in Prizren on a hot day in late May, after an overly complicated bus journey from Shkodër in Albania. What should have been a three-hour bus ride took a total of eight hours, including two hours of transit in Tirana. I finally arrived at the bus station at 6pm and walked for another 15 minutes to get to my hostel.
As I walked to the hostel, I felt the same sense of happiness that I felt when I first arrived in Sarajevo, Bosnia. At first, I could not understand why, but then I realised that it seemed familiar, because it actually looked like Sarajevo—with the river flowing through the centre of town, the churches, the mosques, the old town, the cobbled streets, the lively music and the welcoming people. I was in love from the get-go.
Here are my recommendations to make the most out of your trip to Prizren:
Accommodation: I don't usually write raving reviews of my accommodations, but it won't be an exaggeration to say that part of the reason I love Prizren so much is the hostel I stayed at, Driza House. It is impeccably clean, has bunk beds fitted with bed lamps and plugs, and there are curtains to ensure privacy. The rooms are spacious and beautifully decorated, and come with breakfast—for only eight euros a night per person, it is a bargain! It's run by a lovely young couple who are friendly, kind, and big travel lovers themselves. I suggest you book directly through their website to avail their 10 percent discount.
Food: Kosovan cuisine, much like Albanian food, is meat-based. You will find all the traditional Balkan food like burek, grilled meat, stuffed peppers and so on. Since I was a vegetarian, I pretty much lived on burek (a thin crispy layered pastry filled with cheese, spinach, pumpkin or meat and is served with a heap of sour cream), potatoes and pizza during my time in the Balkans. In Prizren, I ate a particularly fresh, delicious vegetarian pizza, in a restaurant by the central river for three euros. There are plenty of options for you in the restaurants that dot the river that divides the city.
The oldest cinema in the Balkans: One of the oldest cinemas in the Balkans is housed in Prizren. The Lumbhardi was dilapidated at one point, but Kosovans came together to save it from privatisation and renovate it. Today, it boasts an indoor and open-air cinema and a lovely cafe where you can sit with friends and have a beer or coffee under the starry night sky.
The Sinan Pasha mosque: The Sinan Pasha mosque is a beautiful landmark situated on the main street in Prizren. Built in 1615 in the Ottoman style, this mosque is spectacular. I have nothing but love for this mosque; since it was Ramadan, I went inside and prayed there. It filled me with a sense of peace.
Our Lady of Ljeviš: This beautiful structure is a 14th-century Serbian Orthodox church in Kosovo.
Built on the ruins of a Byzantine church, it was converted into a mosque during the Ottoman Empire and then back into a church in the early 20th century. Today, it is on UNESCO's list of world heritage sites in danger and can only be seen from the outside.
The Cathedral of Our Lady of Perpetual Succour: This is yet another beautiful place of worship in the form of a Roman Catholic cathedral in Prizren, seat of the Roman Catholic Diocese of Prizren and Priština. The cathedral was commissioned in 1870 by Dario Bucciarelli, Archbishop of Skopje. Its clocktower was built by Thomas Glasnovic, a Croatian monk and architect.
Kalaja Fortress: Also known as the Prizren Fortress, it is possibly my favourite place in the city. This fortress is an old medical structure which once served as the capital of the Serbian empire. The first fort dates as far back as the Byzantine empire and has since been expanded, destroyed, and restored by many. The hike up to the Kalaja Fortress is relatively easy and beautiful. And from the top of the fortress you see a beautiful sight of the whole city, with the river flowing through it and the many old buildings that Prizren is known for.
Docufest: This international documentary festival takes place in Prizren every year around August and features documentaries from around the world! It started in 2002 by a group of friends and has now expanded into a festival which screens documentaries for a week from around the world, thereby attracting tourists, artists and musicians from across the world. I was unable to visit this last year, but it is at the top of my list of events to take part in, in the coming years.
N.B: As a Bangladeshi passport holder, I cannot complete this article without a little bit about the visa regulations. Bangladeshis do need a visa to visit Kosovo, but if you have a valid multiple entry American, British or Schengen visa, you can enter the country without anything additional.
Maliha Fairooz is a 28-year-old Bangladeshi solo traveller, who has travelled to 84 countries, on a Bangladeshi passport. Through her blog www.maliharoundtheworld.com she shares her experience of travelling as a brown, Muslim, Bangladeshi woman while simultaneously encouraging a culture of travel amongst Bangladeshi youth.